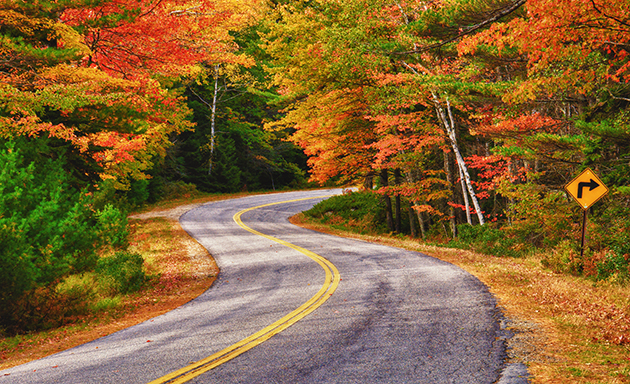 The Summit Resort is centrally located in the New Hampshire Lakes Region offering close proximity to Weir's Beach, and some of the best fall foliage viewing in the state. It's the perfect time of the year to enjoy a scenic drive around Lake Winnipesaukee. Take note of the beautiful fall colors, don't forget to get out and stretch your legs along the way for some great food and tax free shopping. For more information on the towns you will be driving through check out the blog from our sister resort on Lake Towns here.
Start your day off taking Rt. 3 From Weirs Beach, all the way into Meredith Town Center. Grab some delicious breakfast at Sunshine and Paws and take a walk-through downtown for some awesome shopping and lakeside views before hopping back into your car.
From Meredith town center, continue on to Rt. 25 until you hit Center Harbor. Don't blink, because this small town packs a lot of New Hampshire punch. This section of the lake avoids the heavy crows that Meredith and Weirs Beach bring while offering a variety of excellent restaurants and inviting shops. Enjoy the small town charm and appreciate the beautiful oranges and reds on the trees surrounding the route. While in town don't forget to head down to the lakefront and check out our new sister resort, the Center Harbor Inn.
Once through Center Harbor and into Moultonborough, hop on Rt. 109 and head towards Wolfeboro. The long stretch on 109 is surrounded by beautiful trees and will give you a front row seat to the famous fall foliage of New Hampshire. Keep your eyes peeled for some beautiful houses along the way. There are a few spots that give you clear views of the lake right in Tuftonboro, pull off to the side, step out, and enjoy the fresh crisp air coming off the lake and take a photo with your family before getting back in the car and heading towards Wolfeboro.
Once you hit downtown Wolfeboro find a place to pull over on Main St. to get out and stretch those legs. Wolfeboro is your quintessential lake town, downtown is located right on the southeast shores of Winnipesaukee. With coffee shops, boutiques, and restaurants, you can enjoy being on the lake without actually being on the lake. Try one of our favorite spots for lunch at Garwoods! They are open year-round and offer a waterfront patio overlooking Wolfeboro Bay. Whether you are craving seafood, or a hearty fall soup, they have it here.
From Wolfeboro take Rt. 28 until you hit Bay Hill Rd. and take a right onto Rt. 11 on Mt Major Hwy, where you will cross the Southernmost point of the Lake at Alton Bay. Continue onto 11 until you get to 118 and take that straight back to the Summit Resort. The entire drive should take about 1hr 45min, with stops along the way you can make a full day of experiencing Fall in the New Hampshire Lakes Region. This is a lakeside adventure you will remember for a long time.