The Summit Resort is only a fifteen-minute drive from the Lakes Region's premier recreation destination, Gunstock Mountain Resort. Gunstock provides outdoor adventure opportunities throughout the entire year at the mountain and is considered the closest major ski mountain to Boston.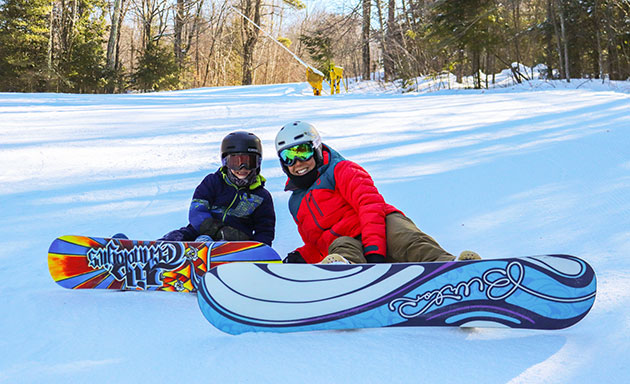 Whether you plan on adventuring with your family, friends or significant other, Gunstock provides plenty of options for the entire party to enjoy. In the winter, guests enjoy skiing and boarding the 48 alpine trails accessed by 7 different lifts, 2-hour tubing sessions, 27 cross-county skiing trails, snowshoeing and winter hiking. Guests who stay with us for our Gunstock Ski and Stay promotion enjoy 20% off their spacious accommodations at the Summit Resort as well as discounted lift tickets for their day trip to Gunstock Mountain, making us the ideal choice for Gunstock lodging.
Although Gunstock Mountain is primarily recognized as a popular ski destination during the winter season, the mountain transforms into a summer adventure park after the blanket of snow has melted. Offering a wide variety of activities, Gunstock even caters to thrill seekers looking for an adrenaline rush with one of the longest zip line tours in the United States and an aerial ropes course suspended high above the ground. Visitors can also choose their own speed on the mountain coaster, designed to tour through the forest on a twisting track. Other warmer seasonal options include off-road Segway and E-bike tours, scenic lift rides to the top of the mountain to witness the incredible views from the mountains peak, miles and miles of hiking trails and so much more!