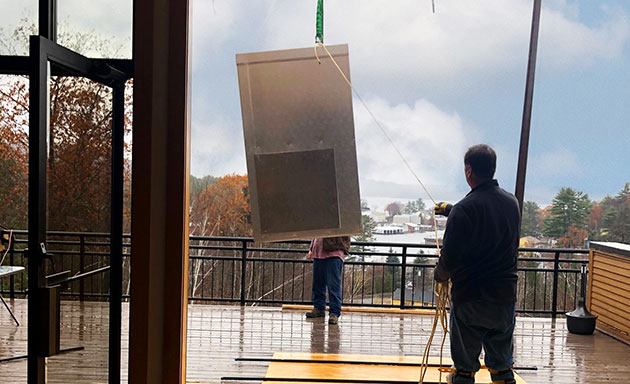 One of our primary goals at the Summit Resort is to consistently improve the guest experience. In doing so we have taken on a few renovation projects that will be sure to enhance your next Lakes Region vacation. Measuring in at 25,000 square feet, our amenities center is one of the major attractions at the Summit. Earlier this season we installed a new air handler in our large amenities building to both improve circulation and better regulate the air. Our indoor, heated pool area includes a glass enclosure allowing the sunlight to come in and provide some natural heat. The newly installed system offers significant improvements in ventilation, heat and air conditioning to regulate the space. To assist our new air handler with heating and provide additional humidification, we also installed two new energy efficient boilers. The new boiler system allows us to reduce fossil fuel consumption and relax while enjoying the warm, tropical feel of our highly adored amenities building.
Another renovation that is currently in progress is updating our electric dry heat sauna. Since beginning the project, we have installed a brand-new heating unit and control panel to regulate the heat and allow you to truly "sweat it out". Within the next month we plan to modernize the entirety of the sauna, including reconstructing the walls and floor with Ansley Amber ceramic tile and updating the seating area to form a custom cedar bench.
Outside, guests can enjoy a smooth, seamless ride to get to their suites after checking into the resort. Before the winter hit and the ground was frozen, we were able to pave the parking lot of our Summit Resort Building Two. Now there is level asphalt, free of any bumps or potholes. Additionally, we were able to backfill the walkways with fresh loam to provide the final touches to our paving project.
As part of the comprehensive renovation project and resort wide updates, we will be installing a brand-new roof on our amenities center this coming spring. There has been minimal downtime throughout these renovations and resort updates and we would like to thank all the hardworking staff for completing the projects thoroughly and in a timely manner.