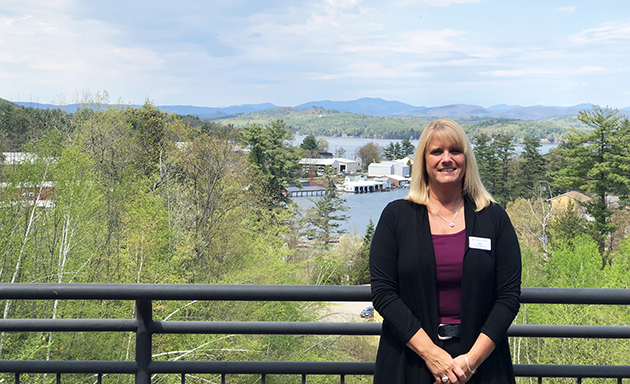 With the long winter in our rear view mirror, the staff at the Summit have been eagerly preparing for the summer season ahead. The barbeque grills, picnic tables and deck furniture are out and ready for your families to enjoy. The outdoor pool and deck have been freshly painted and are waiting for you and your family to come splash around or just relax in the sun on a warm summer day.
We are looking forward to the grand opening of "The Market" at the Summit this Memorial Day Weekend. Located in the lobby of the Amenities Building, our owners and guests will now be able to pick up a fresh brewed cup of coffee as well as a variety of food items, snacks, drinks and Summit Resort memorabilia. Along with the new market, the Summit lobby area is receiving a bit of a face lift with new tile in the entryway, carpet and lobby furniture. We have worked hard to create a warm and inviting area for you and your families to relax and play.
We have added new refreshing beverages to our drink menu at the bar. What better way to spend the day than enjoying a delicious beverage by the pool or on the back deck while taking in the gorgeous views. Don't forget about the service window at the indoor pool. We are always happy to serve you.
In addition to the amazing swimming pools on the property, there is volleyball, tennis, basketball, a children's play area, corn hole and horse shoes. We also have great walking trails right next door at The Prescott Farm. You can access these trails directly from the Summit driveway.
With Weirs Beach just around the corner there are plenty of activities for your family. Take a cruise on the MS Mt. Washington or the Sophie C, ride the Winnipesaukee Railroad, play miniature golf, race go carts, visit the drive in movies, hang on the ropes course, or enjoy great restaurants and ice cream too. We have discounts to area attractions and restaurants available to all of our owners and guests, please inquire at the desk.
Once again, we will be welcoming back our owners and guests that have spent countless summers with us as well as first time guests. We always enjoy hearing about the events that have taken place in your lives over the past year, weddings, graduations, travel and the birth of new children. Swing by the front desk to say "Hi". We are all looking forward to seeing you all at the resort!
Sincerely,
Sue Violette