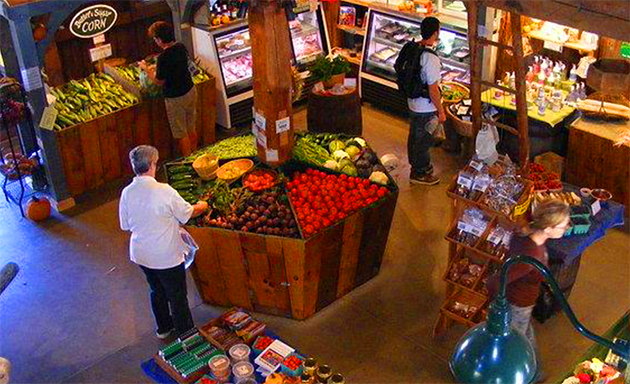 Eating local is so important now a days, and as the weather and seasons change we are at peak season for a wide variety of fresh produce in New Hampshire. The Summit Resort is located right in the heart of the Lakes Region, which makes it easy to get direct access to a variety of farms, markets, and stands. Our favorite of the bunch is Beans and Greens located in Gilford just down the road from the resort.
The Summit offers a unique feature that sets us apart from other hotels in the area, full kitchens stocked with everything you need. With access to a full kitchen guests can visit local farm stands and bring back fresh groceries to their room where they can cook up a meal for the whole family using locally sourced ingredients.
Not only does Beans and Greens grow and sell their own fruits and vegetables, they also sell local and organic meats, cheeses, pastries, pies, honey, jam, and a variety of other offerings. Aside from food and produce they have a large greenhouse where they sell a large selection of plants and flowers. They are a very family friendly place where there is a barn with animals and a corn maze in the fall.
While you're there grab some fresh salad greens, strawberries, blueberries, goat cheese, a great piece of meat, and a blueberry pie. We have crafted the perfect meal for you to recreate at the Summit this summer based around our parent resort restaurant, The Hilltop. (Scroll down for the salad recipe)
Once you get back to the Resort, take advantage of the outdoor grills we offer and fire it up to start cooking your protein of choice. Whip up the Red, White, and Blue Salad in the full kitchen as a side to accompany your meal. Sit down at one the outdoor picnic tables, or gather around the dining room table in your room and savor the local flavors.
I hope you didn't forget that blueberry pie we mentioned. Throw it in the oven at 350 degrees for 15-20 minutes and you have the perfect summer meal. You don't always need to go out to eat every night while on vacation, you can eat a fresh and healthy meal as a family at the Summit Resort while sampling some of the best produce available in New England and supporting local farms.
Red, White, and Blue Salad
Ingredients:
1 C Strawberries
½ C Blueberries
4 C Salad Greens
3 oz Goat cheese
Dressing of Choice
How to prepare:
Give your salad greens a good wash and toss in a bowl. Slice a cup of fresh strawberries and throw them on top of the bed of lettuce. Next add the blueberries, crumble the goat cheese over the top, and throw on your favorite dressing. Toss all together and you have a fresh and healthy side to go along with your protein of choice.