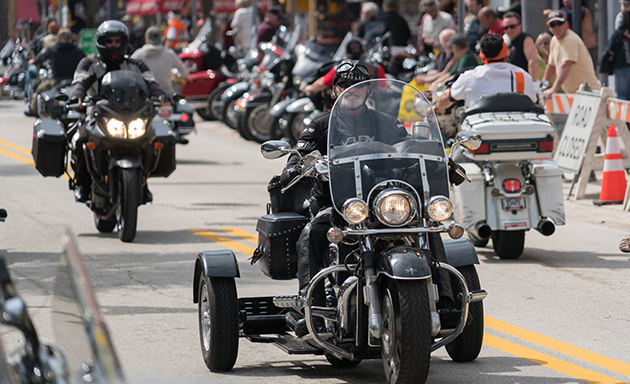 Laconia Motorcycle Week, scheduled June 9th-17th this year, is just around the corner here in New Hampshire's Lakes Region. Located only a mile down the road from the heart of the festivities in Weirs Beach, the Summit Resort is ideal for your bike week Lodging. Our suite style two-bedroom units come equipped with a full kitchen, dining room and living area. If you are looking for a bit of peace, quiet, and space among the hustle and bustle of Bike Week then join us at the Summit Resort.
Though many bikers are keen to camp out, truth is sometimes you want a little bit of luxury and space. Take it from Rex Burgess, a longtime rider and frequent guest of the Summit. Rex was recently quoted in RG Magazines as saying, "We have knocked it up a notch especially when we have our wives with us. We have been staying at the Summit Resort for a number of years. It is very comfortable and the people are nice and the wives love it. However, a lot of bikers still camp out."
We are so lucky to have guests like Rex stay with us year after year, it creates a sense of community both individually at the resort and within the town of Laconia. It's a great boost for the economy after a long winter and really marks the beginning of the summer season in New Hampshire's Lakes Region.
Our hotel amenities include indoor and outdoor pools, a roman spa, outdoor grills for guest use, an onsite bar, and opening in time for Bike Week our new convenience store, The Market. Located in the lobby of the Amenities Building, our owners and guests will now be able to pick up a fresh brewed cup of coffee as well as a variety of food items, snacks, beverages and Summit Resort memorabilia.
We are currently almost sold out for this year's Bike Week, but encourage guests to make reservations for next year in order to guarantee a spot! Feel free to check out our list of current packages and enjoy a Summer getaway in New Hampshire's Lakes Region at the Summit Resort.