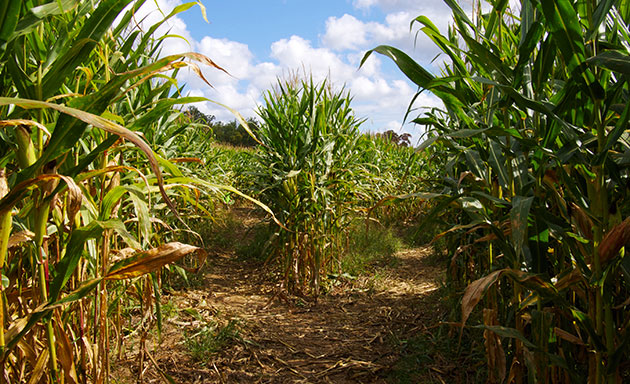 Fall harvest is upon us here in the Lakes Region which means it is time to visit the local farms for an abundance of entertaining autumn festivities. One alluring attraction located within a ten-minute drive from the Summit Resort, is Beans & Greens Farm, based out of our neighboring town of Gilford, New Hampshire. Beans & Greens is much more than just a typical rural farm, they provide an extensive farm stand containing produce, meats, baked goods and more! The farm also presents a variety of events throughout the year including the upcoming Harvest Festival Weekend, held on October 12th and 13th. Among the various activities offered at the farm, their annual corn maze stands out and draws visitors from near and far.
Voted one of New Hampshire's best corn mazes by Parenting NH magazine, the maze is open from mid-September through Halloween and provides visitors one of the more challenging mazes New England has to offer. The staff at Beans & Greens have been crafting challenging corn mazes for over fifteen years now and have mastered the art of creating a difficult course by using multiple acres of land, and incorporating several dead ends, turns, loops and even bridges. The corn maze acts as a giant walk through puzzle where you can attempt to navigate, get lost and continue to find your way again, or so you think. Most visitors find themselves successfully completing the maze within an hours' time and the experience is the perfect opportunity for a fun family outing. For brave visitors looking for a more of a thrill, the farm offers a night maze adventure on Fridays and Saturdays (reservations are required for the night maze, please call the farm at: 603-293-2853).
For visitors attending the farm with younger children, Beans & Greens offers a simpler hay maze and pumpkin maze which is an exciting opportunity for the little ones to try to navigate through. The farm also includes a barnyard where you have the chance to hand feed many of the docile farm animals including goats, cows, pigs, geese and more. If you are planning to visit Beans & Greens this autumn, be sure to wear proper walking shoes and seasonably appropriate clothing. Once you return back to the Summit Resort, relax and kick your feet up in the large Roman Spa while taking pride in your victory over one of New Hampshire's most difficult corn mazes!