Dedicated to environmental education and preservation, Prescott Farm has activities, workshops, and hiking trails offered year-round. The Farm is located within walking distance of the Summit Resort via a short access trail which provides easy access for guests looking to get out and explore nature in the New Hampshire Lakes Region.
Currently, for adults only they are offering some exciting events including Snowshoe Adventures and Moonlit Walks. If you're looking for a family activity they also offer Animal Tracking, Winter Bird courses, and Life Under the Snow adventures. The Farm is a great resource for a mix of fun, education, and fresh air.
If you don't want to join in on a program or event, you are free to use the farm trails, the longest trail is just about a mile, but you can create your own combination of their trail system to make it as long or short as you like. If you have snowshoes this is a great local place near the Summit Resort to adventure to and if you don't have equipment they offer rentals for specific sign-up activities.
Located on the property Prescott Farm participates in geocaching treasure hunts. This exciting, outdoor activity uses any device with a GPS. Once you find the correct location of an item there will be a box typically with a notebook to log who and when a person finds it and sometimes the boxes include small treasures inside to trade with. For more information check out the geocaching website here.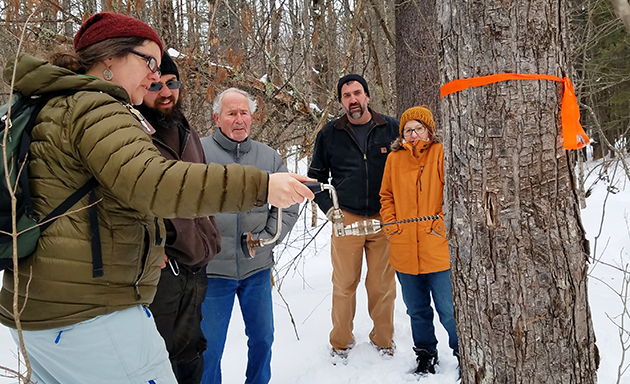 Maple sugar season is just around the corner here in New Hampshire so keep an eye on their website for events and activities to participate in hands-on experiences during the maple syrup making process. In the past, participants have learned to properly identifying maple trees and even had an opportunity to tap the trees.
Once back at the resort from a day full of adventure, head to the amenities building for a soak in the roman spa or enjoy a cocktail from the bar. On a cold night, snuggle up by the TV and settle in for popcorn and a movie with the family. To explore Prescott Farm with the Summit Resort, check out our packages page for great deals and savings.