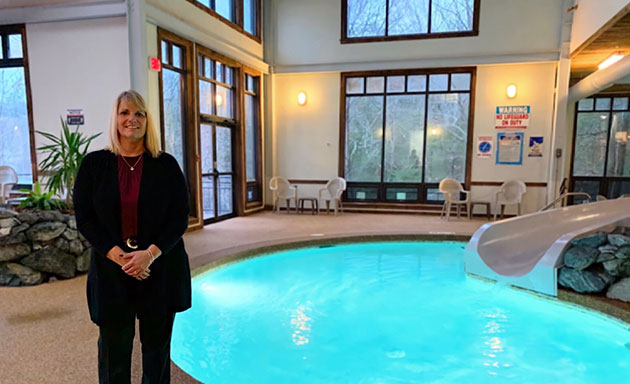 What a year 2020 has been so far! While we question what is going on during these crazy times, we are finding that our members and guests are looking to us for the comfort and safety of a home away from home. We have taken pride in providing a clean and safe environment for your families to get away to. This past spring, summer and fall we welcomed back many of the families that we are accustomed to seeing year after year as well as some new guests. It was a busy summer and autumn season and we made it through safely. Keep in mind that we did so while masking up and abiding by social distancing guidelines as the safety of our guests, owners and team members is key.
Looking forward to the winter ahead we will continue to work towards making your vacation a memorable one. The amenities building is open with some restrictions of course, primarily limits on the number of people in certain areas at one given time. We are also asking that all members and guests wear face coverings throughout the building. Face coverings are not necessary in the pool area but we do ask that you maintain a safe social distance from other guests not in your party. We plan to continue our curb side check in to avoid crowds in the lobby area. Please know that once you check in you are free to come and go in the amenities building as you wish however we ask that all guests check in at the front desk when entering and leaving the amenities building so we can keep track of the numbers as we currently have an occupancy limit in the pool area at this time. We are also asking that all timeshare owners wanting to use the amenities for daily usage make a reservation 24 hours in advance.
What does this winter hold for us? Well rest assured that winter activities are still available for the winter 2020/2021 season. The Lakes Region has a lot to offer through the winter months including skiing, snowshoeing, hiking, ice skating, ice fishing and more. We have great walking trails next door at Prescott Farm, that can be accessed right from our property. The Summit Resort also offers snowshoe rentals at the front desk, what better way to spend the day than outside exploring and getting some much-needed fresh air? Gunstock Mountain will be opening soon for winter sports and activities and there will be some new policies at the mountain including the requirement of reservations to keep all visitors safe. We are excited to have our guests enjoy their offerings. We are also thrilled that the Ice Castles plan to return this year to Woodstock, NH, as this has always been a popular attraction for our guests. There will be restrictions and reservations required for most local events and activities so be sure to plan ahead and book your upcoming getaway today.
We know this has been a challenging year and would love nothing more than to welcome you and your families back to a warm, relaxing and clean environment to unwind at.
See you soon, be safe and be well!
Sue Violette