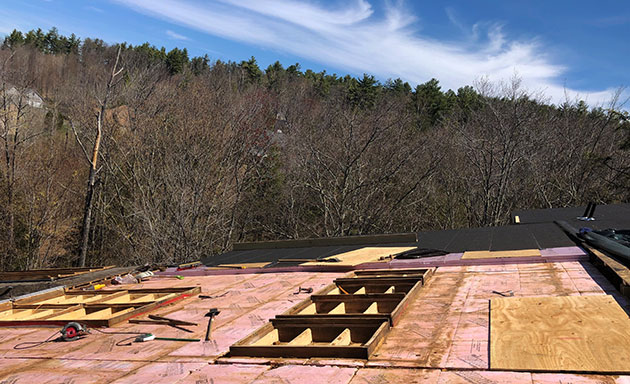 Our 25,000 square foot amenity center is a major attraction here at the Summit Resort. It holds some of our most popular amenities including the indoor pool with waterslide, oversized Roman spa hot tub, fitness center, game room and more! As one of the main elements to our guest's first and lasting impressions of The Summit Resort, our management team has decided to take on some widespread renovation projects and updates to our amenities building.
The ongoing renovation project began during the fall season of 2019 and was unexpectedly put on hold due to the Coronavirus pandemic. Throughout this comprehensive renovation process, we have installed a new air handler for better air circulation and completely overhauled our electric dry heat sauna. We are currently in the process of installing a brand-new roof to the entire amenities center building. Reconstruction included bringing in a team to conduct the stripping of all the old shingles, woodwork and insulation and completely refurbishing it with new materials creating a beautiful new rooftop. We have also welcomed the addition of an air hockey table, claw machine, foosball table and an arcade game table providing hundreds of classic arcade games to our amenities building game room. We also purchased an industrial dryer proving to be an asset for our laundry attendants in the housekeeping department, making their workloads much more efficient.
Here at the Summit Resort, we aim to consistently improve our guest's and owner's experiences and we cannot wait to see how these new updates are enjoyed by all!