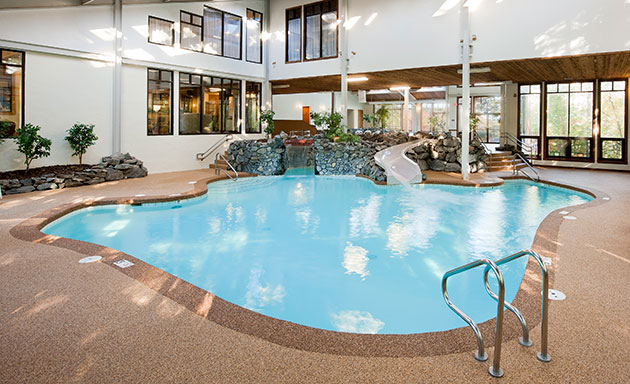 As we welcome our guests back to the resort, the safety and health of our employees, timeshare owners and guests remain our top priority. With our pools opening back up, we would like to take this time to summarize the safety plan and strategies we have implemented to provide you with the most enjoyable and safe vacation possible. We have established a comprehensive reopening strategy that will be following CDC guidelines as well as the COVID-19 Reopening Guidance provided by the Governor's Economic Reopening Taskforce, taking all precautionary measures to protect your health and safety. Here are some of the new procedures we would like you to know about:
Our new pool hours will be 9AM – 9PM daily
Our pools will be open to owners and guests staying onsite with us
During high demand periods, usage of the indoor pool facility may be limited to 2 hours increments and require a reservation in order to meet NH State Covid Safety Guidelines
Day-use timeshare owners will be provided access to onsite pools on a reservation basis. Please call 603-366-4896 ext. 0 within 24 hours of your planned visit
There will be signage stating social distancing rules and max occupancy that must be adhered to
We have installed alcohol-based hand sanitizer stations and encourage guests to use them frequently
We have rearranged the chairs and lounge furniture to follow social distancing guidelines and will disinfect them regularly
Our cleaning staff is using hospital grade disinfectant to regularly sanitize public spaces including all frequently touched areas such as railings and door handles
Our Fitness Center will be opening Thursday, June 18th and will be limited to a maximum of 3 people
Masks are mandatory in all common areas and required in public spaces, indoors or outdoors, where guests are unable to or do not consistently maintain a physical distance of at least six feet from persons outside their own households
Staying at the Summit Resort gives you and your family the option to enjoy two vastly different and enjoyable pool facilities. The outdoor pool, opening on July 1st, is refreshing and provides the ideal location to bask in the sun and catch some rays. The pool is surrounded by nature with a peekaboo view of Lake Winnipesaukee in the distance. With a deep and shallow end, our outdoor pool caters to swimmers of all levels and ages. Available on June 18th, our indoor pool provides year round fun with a water slide and hidden cove behind a cascading waterfall. The pool area also consists of an oversize Roman Spa hot-tub to relax in, after all isn't that what vacation is all about? When you book with one of our resort packages, you are able to save money and enjoy our abundance of amenities.